Childrens Dresser
September 27th 2008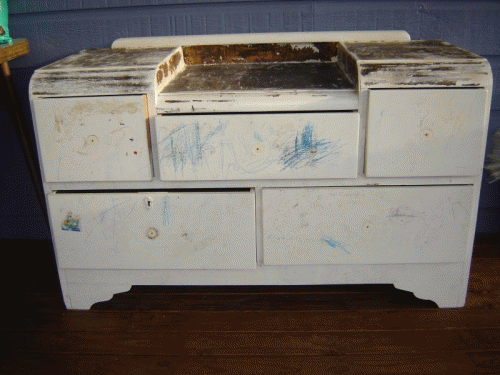 This is another bit of furniture for our daughter. Here is the project of our first childrens wardrobe for her clothes. We picked up this dresser at a local garage sale for $10. The wood is in good order. The drawers are solid timber and the joints are dovetailed. As you can see from the stickers and crayon this has been previously loved.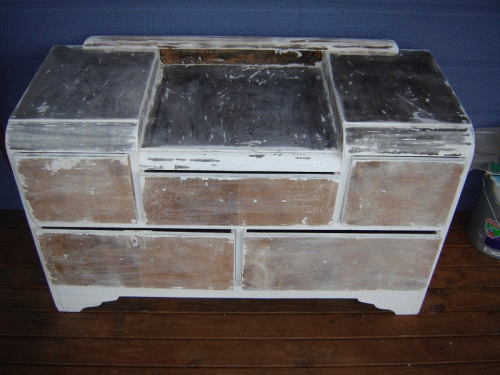 My wife did the majority of this project. The first stage was to get rid of the old paint. She used a heat gun and removed most of it, she wore protective gear for the paint flakes and the fumes. Some areas did not come off well, so she sanded it back smooth and clean ready for the paint.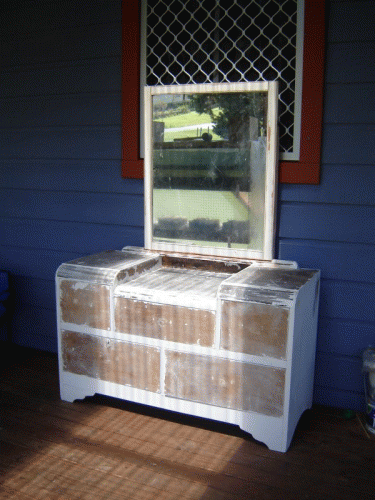 My wife was keeping her eye out for a good mirror for this project. One day she came across one at a local second hand goods place. She raced home measured things up and went back haggling the guy down to $45. Next we sanded and prepared it. Routered the top of the dresser to fit the mirror flush. Then we attached two lengths of timber to the back of the dresser and the mirror. 3/4 of the way up the mirror and to the base of the dresser, with 6 wood screws per side. The mirror was now stable and securely affixed to the dresser.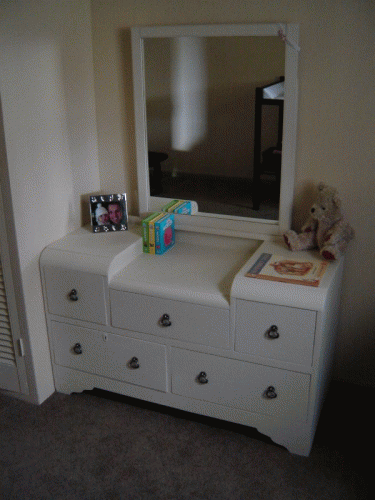 Next, was a lot of sanding. We also used wood putty on a couple of blemishes. Next was several coats of paint. We spent a long time in bunnings staring at the handles shelf. We came away with some nice ones. So a $10 garage sale bargain, a $45 mirror and $32 for handles. All up $87 for a beautiful dresser. We are very pleased with the result and we are sure our daughter will love it.
Comments