DIY Walk In Pantry
December 11th 2011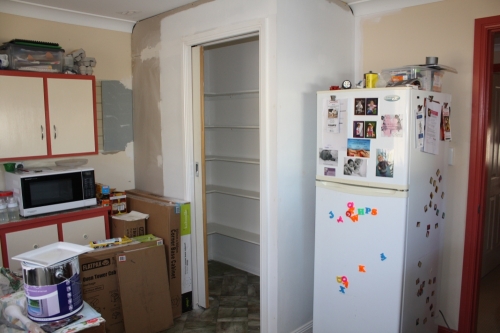 Here is our new walk in pantry. The inside is mostly completed, the steps we took are detailed below.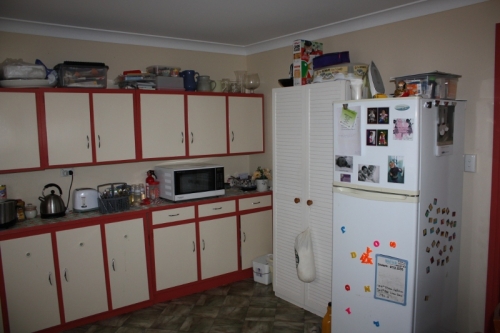 Here is the kitchen of the house we are renovating. Those old cabinets were attached to the wood panelling and gyprocked around. The floor has at least three layers of vinyl flooring.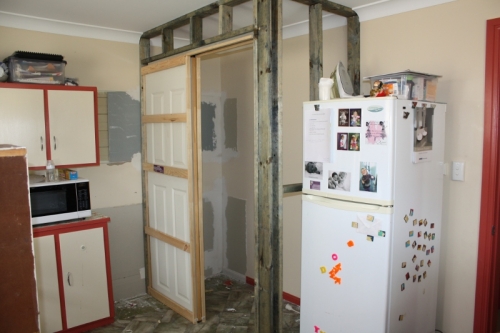 We had to patch the plaster where the cabinets were removed. I then did some stud framing. This is non load bearing. I used 90*35 pine framing with 450mm stud spacing or less, a bit over 20 metres of it in the end. The sliding door is a corinthian slimline cavity door, it went well and works well now. Next time I would spend a lot more time with my level.
This is my first house wall. I am learning a whole new building volcabulary. Top plate, base plate, studs, noggins. It is a lot of fun. I have been meticulously measuring, it is amazing what a few millimetres mean in building. I used a plum bob for the studs and even a level on my noggins. Renovating may be exhausting but as a second job I am enjoying it.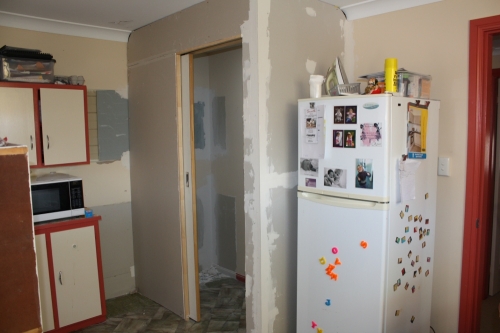 Here is the pantry during our gyprock and plastering. I also fitted a skylight. These work great. But in our old home with the false ceilings the tube didn't quite make the distance and I wrapped the last 2 foot in aluminium foil :) Provides great light throughout the day.
Finalling getting some melamine shelving in. We used 40*18mm undercoated pine. We drilled it into the studs. The melamine shelf was affixed with liquid nails and then we finished the shelf with melamine edging.
What we have learnt from our first little renovation project is finishing takes a long time. Putting the wall up is quick compared to plastering, painting and finishing. Every problem from earlier stages is visible through the paint. So take your time, use the level and tape measure a lot. Also some things are important and some are not, make a quality product but understand what needs to be a quality finish and what doesn't.
Comments