Hardening Vegetable Seedlings
April 6th 2014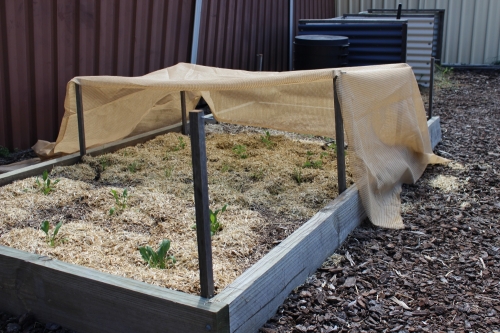 This is our new method for getting our vegetable garden started.
In the front of the picture you can see our spinach seedlings, out in the sun. The onion and snow peas are still under some shade cloth. The spinach was under the shade cloth the week before but is looking good and strong. We will soon move the shadecloth off the onion and snowpeas and get some more seedlings in the third part of the bed.
The shadecloth is just held up with tomato stakes cut in half and a nail in the end to clip the shadecloth over.
This is a way to harden up the seedlings. Looking after them while they get going, aclimatising them.
It is also a nice way to take our planting in stages and encourage us to always be planting and tending. Previously we have planted everything and hoped for the best.
In this was we are doing more thinning too. Planting seedlings like the onion together so they can support each other and when they are stronger seperating them to encourage good bulb growth.
Anyway, that is what we are trying this Autumn/Winter. Always part of the gardening fun, trying new things out. I hope you are enjoying your vegetable gardening.
Comments