Homemade Ice Cream Birthday Cake
October 11th 2011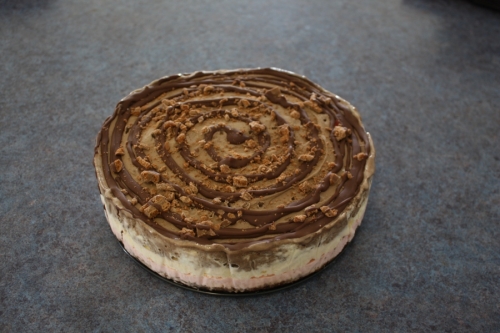 This is an easy, affordable and impressive ice cream birthday cake.
The first thing I did was line a spring form cake tin with baking paper.
I then used 3/4rd of a packet of plain chocolate biscuits and 60g melted butter to make my base. Just blitzing them with the handheld blender. I then spooned this mix into the tin and pressed it to a consistent base.
I started with 2 litres of neapolitan ice cream. I allowed it to soften and then divided it up.
For the 1st layer, the bottom layer, I used all the pink and half the white. I mixed in diced up turkish delight and spooned it in. I then put the cake back in the freezer while preparing the next layer.
Layer 2 was just plain vanilla ice cream, I used approximately 750g of ice cream from a different tub, about 4 large scoops, to get a layer about 3 cm thick.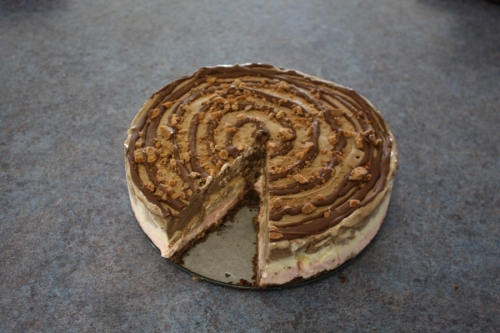 For Layer 3 I then used the rest of the vanilla and all the chocolate from the neapolitan tub. I mixed it together with 5 crushed caramel Tim Tams. I then covered the whole cake with cling wrap and foil and put it in the freezer overnight.
To finish the ice cream cake I drizzled circles of Ice Magic and one crushed caramel Tim Tam.
The turkish delight and caramel Tim Tams were chosen for taste, you could add anything you like - chocolate, lollies, fruit, biscuits. We will have to try a few more, just to test different combinations ;)
Comments