House Renovations 1 - Stormwater
December 4th 2011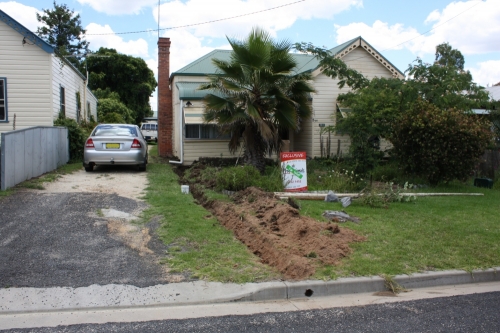 We have recently purchased our first home. A humble little 2 bedroom fixer-upper. Let the renovations begin! We now have lots of Family Projects to do and all of them on our own house and garden.
The first job was to get stormwater to the street and not running under our house and amongst our wooden piers. As you can see in the photo the rainwater from half the roof was just going out into the driveway and then under the house. When I dug up the lawn we found two pipes, not connected and some parts broken with kikuyu growing down it. So we replaced the downpipe with 90 ml PVC and laid the same to the kerb.
Next job was a manhole cover. We could not find one and we wanted to get the electrical in this old house checked. So I climbed on the roof and took off a sheet of iron where I thought a manhole would be, at the end of the main hallway. We found it. I climbed through and found we had false ceilings! There was about 2 and 1/2 foot of space left. The rooms are probably too small to take advantage of this and the false ceilings are newly gyprocked so it looks good. The other suprise was the ceiling is double insulated. There is the air cavity for the false ceiling and then an old layer of insulation bats and then a new layer on top of these. No wonder our house feels comfortable. These are great little finds in an old house.
Another early job has been taming the garden, bushes and trees, pruning and cutting.
There is a growing list of todos but it is so wonderful to work on your own house, making it a home for our family.
Comments