Melamine Pantry
May 20th 2008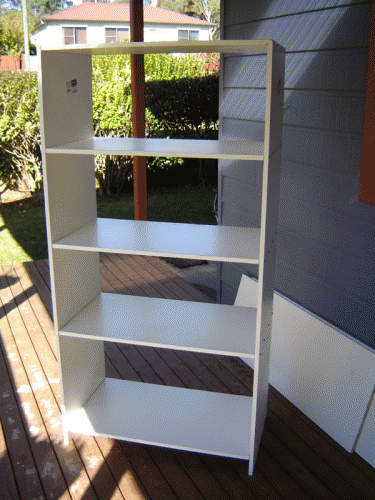 I first investigated flatpack pantries. We wanted a double door one to go in the bathroom for linen, shampoo, toilet rolls etc. They were about $220 - $300. My hippy/scottish ancestry kicked in and said 'I could build one for less than that'. I sourced some melamine from the local Wilair Building Supplies. I created the basic structure above. The shelf size was determined by the width of the melamine we got and what sort of things we wanted to store in the cupboard. We ended up lying toilet rolls and shampoo on the board and getting our heights. The shelves are screwed in but next time I think I will router a groove to slide and glue them in, this would avoid having to countersink or cover the screwheads.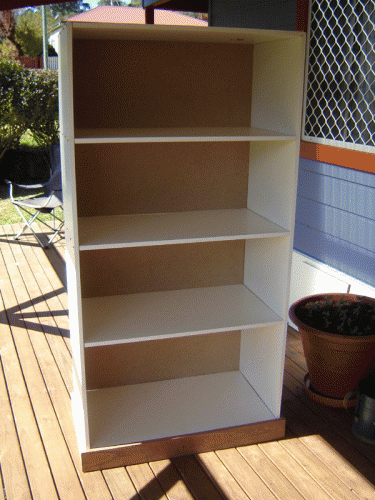 We then added the backing board. This was also melamine due to the dampness of the bathroom. This was just tacked on with cabinetry nails. The skirting board was doweled to the melamine to provide added rigidity and a base for the feet, and to look good. We ironed some melamine plastic on the top where the chipboard was exposed.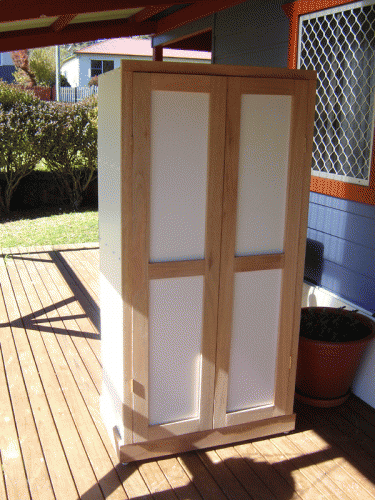 Next I nailed on the door surround. I fitted two doors inside this. The doors where doweled and glued and the surround held them while they set. I added some thin melamine board on the back of the doors. We were going to use small corrugated iron or material, but this was there and looked okay. I planed off some of the doors to create space for the them to swing and for hinges. We then fitted the doors and sanded. The hinges I got looked good but the screws were very delicate.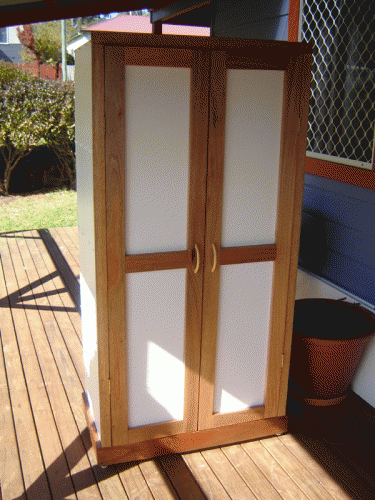 Finally we gave it a coat of estapol. I affixed two wooden handles and put on two clasps for a nice sounding click when closing the doors. We learnt a lot. I would say about $170 in materials. We are quite pleased with the outcome. Next up some bedroom furniture or a kitchen.
Comments